ISD commissions nine new UPLB Ambassadors, recognizes past heads
23 June 2016 | CHHagosojos |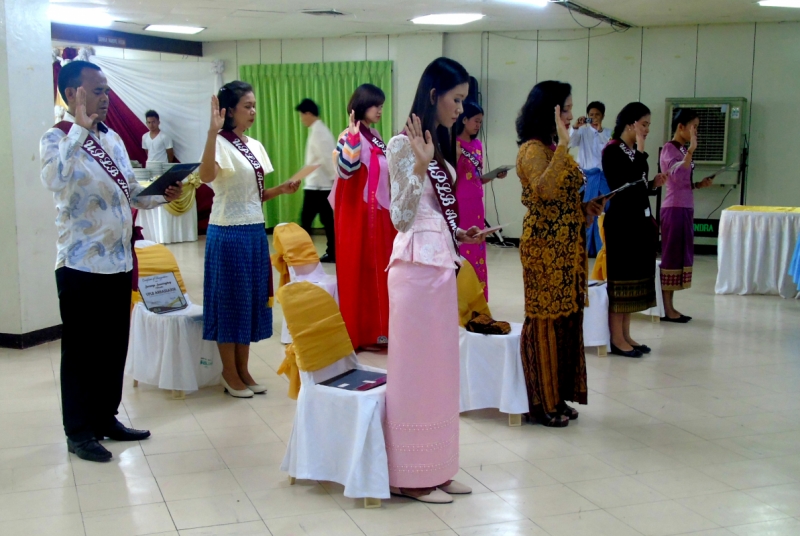 Clad in colorful traditional costumes, nine graduating international students pledged to be UPLB Ambassadors during the 4th Investiture and Commissioning Rites on 23 June 2016 at the Makiling Hall, SU Building.
In her opening remarks, Dr. Nina M. Cadiz, OSA Director, congratulated the ambassadors and mentioned their role as the mouthpiece of the university.
Dr. Portia G. Lapitan, Vice Chancellor for Academic Affairs, delivered the message of Chancellor Fernando C. Sanchez, Jr. The chancellor encouraged the ambassadors to use the knowledge, skills, and insights they have gained in the university in serving their countries, and to become active and conscientious members of the international community.
The Investiture and Commissioning Rites is conducted yearly by the International Students Division in order to recognize the role of the international students in the promotion of the university. These ambassadors shall promote UPLB and further its purpose while living up to the ideals of honor and excellence.
The following international students were the newly-commissioned ambassadors:
Sawangphop Saranya (Thailand)
Carlito Mali Code (Timor-Leste)
Setia Sari Girsang (Indonesia)
Min Ji Na (South Korea)
Phetsaphone Thanasack (Lao Pdr)
Myat Moe Hlaing (Myanmar)
Chamrouen Li (Cambodia)
Sonephavanh Liemphachanh (Lao Pdr)
Tony Liston Hutagalung (Indonesia)
Na received the Academic Excellence Award for garnering the highest GWA among the graduating international students under the MS program, while Li and Liemphachanh received the Service and Leadership Award for their exemplary commitment as officers of the International Students' Association.
During her speech, Na talked about how she struggled with culture shock and language barriers in the university. But despite these challenges, she mentioned that she enjoyed the friendship with the people she met in UPLB. "If UP gave me great knowledge and experiences of the real world, it also gave me the opportunity to build up the most precious friendships."
In the end, Na reminded her fellow ambassadors to live up to the ideals of UP. "Let us remember the three things that UPLB has taught us: Honor, Excellence, and Service," she said.
The past ISD heads were also recognized during the event for their valuable contributions to the division. The following were the awardees of plaques of recognition:
Dorothy C. Litan
Eduardo A. Dacanay
Guinevere T. Madlangbayan
Jaime A. Mendoza
Zenaida S. Loberiza
Melanda S. Hoque (received by Dr. Loinda Baldrias of FOCUS-ASSIST)