University Clearance Application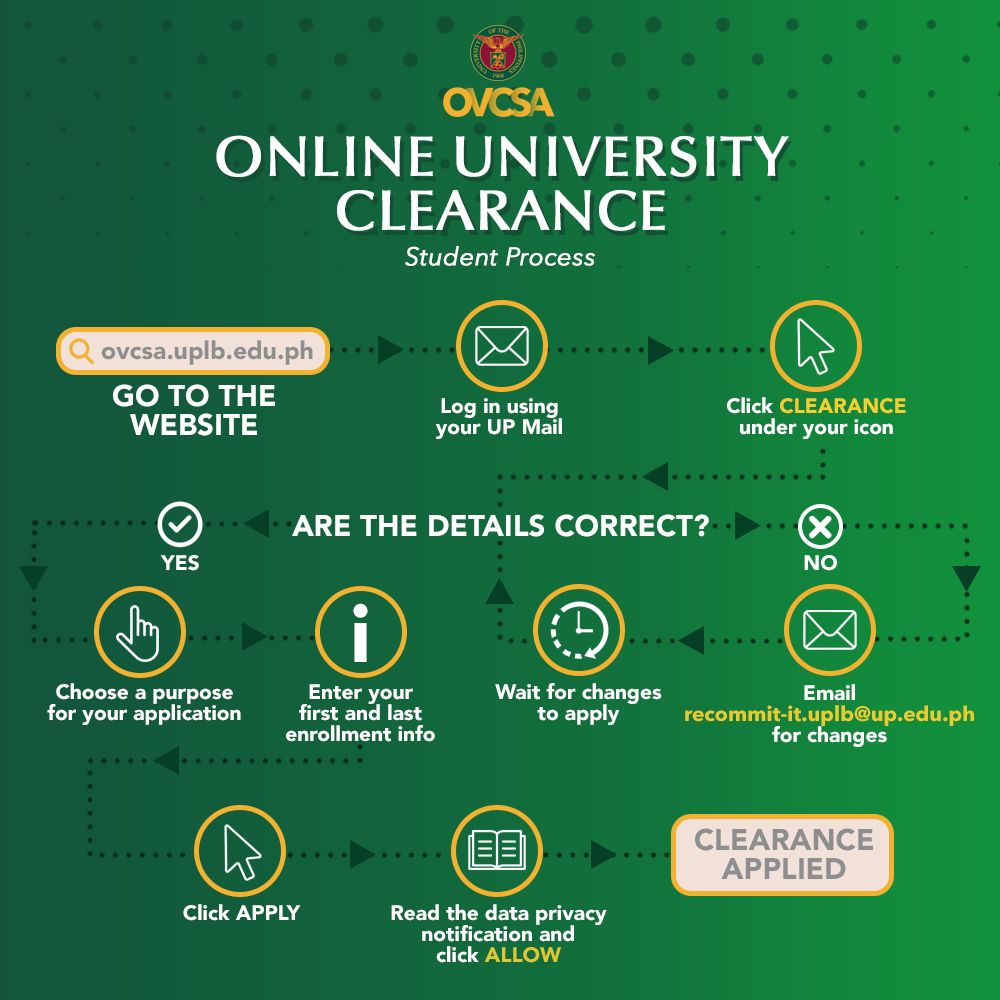 If you do not have an account, start by
registering for an OSAM Account first.
A. How to apply
Using your device, go to OSAM website
Login using your UPMail account (if you encounter any problems here, kindly email [email protected]).
Click the CLEARANCE button under your profile icon.
Double check the information displayed on the application page. Make sure that your details are correct.
Choose the Purpose of your application.
Click APPLY.
After reading the data privacy notification, click ALLOW.
B. How to check the status of your clearance application
Once you have applied, you will be redirected to the status page of your clearance.
You may also access this page anytime by following steps 1-3 of Part A of this manual.
C. How to view reasons for office disapproval
Hover over the office card with the "Disapproved" status.
Notice the red border of the office card.
When you hover over the card, it will show the VIEW DETAILS button along with other information such as the date when your application was last updated at that office.
By clicking VIEW DETAILS, the reason for disapproval of your clearance application will be shown.
D. How to resubmit application to an office with disapproved status
After following the steps in Part C, click RESUBMIT CLEARANCE APPLICATION.
Note: Make sure that you have satisfied the requirements stated by the office first before resubmitting your application.
E. Download Clearance Certificate
Once all the office cards turn green, you should now be able to download your clearance certificate. The download button is located on the lower left corner of the page.
REMINDER: For other concerns, check the UNIVERSITY CLEARANCE Frequently Asked Questions.