UPLB senior Biology student bags 2016 Jose Rizal Model Student of the Philippines award
22 February 2017 | VADiesta |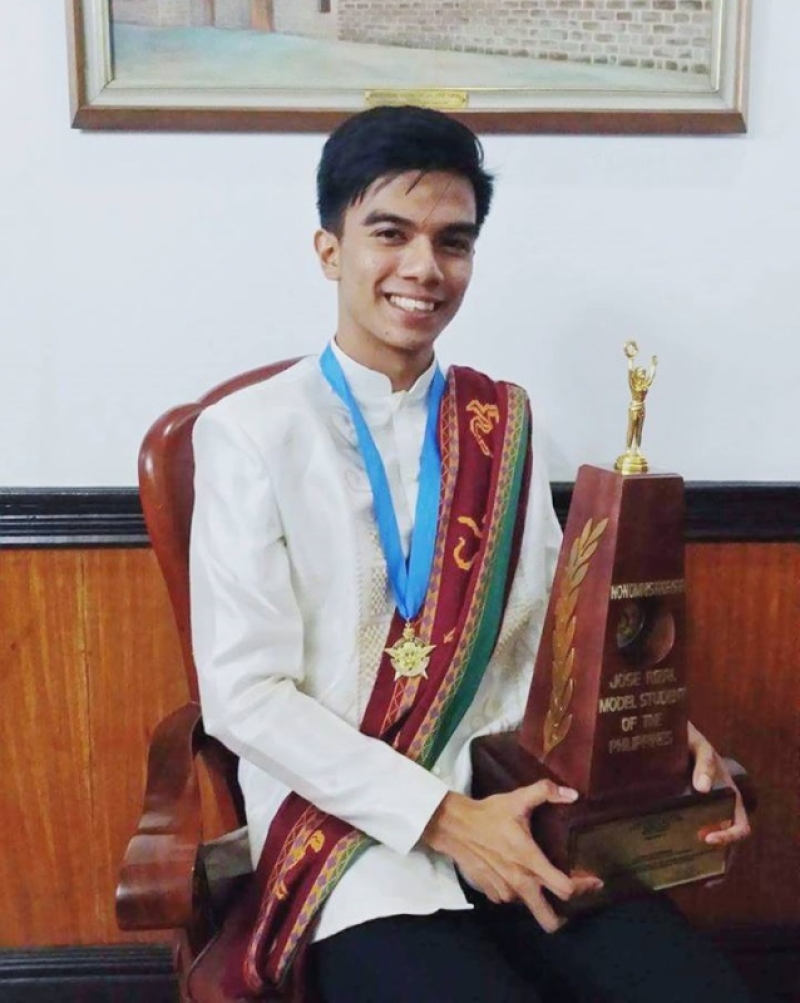 "[When you carry the name of UP], you have behind you the 75% of the poor, the majority of our landless farmers, the majority of our workers who are experiencing contractualization. So it's not just a mere trophy for you. It's for all," Paul Jhon Diezon, one of the recently awarded Top 10 Jose Rizal Model Students of the Philippines (JRMSP), shared.
Just like every other UP student, Diezon has always dreamt of studying at the University of the Philippines. However, the road that the 21-year-old Tuguegaraoeño took to reach that dream was not easy. Despite his and his parents' determination, they could not support his financial needs to pursue his studies.

But because Diezon was determined to study in UPLB, he applied for a scholarship offered by the local government of Tuguegarao for outstanding students and topped the qualifying exam. During his second year in UPLB, he was also granted the UP Presidential scholarship. His two scholarships helped him pursue his dreams by supporting his education.

Maintaining a scholarship may be difficult for some students but Diezon maintained two scholarships throughout his stay in UPLB. This did not stop him from joining student organizations and immersing himself in communities to serve his fellow Filipinos.

The search for the top ten JRMSP is a national level competition that looks into one's academic excellence, extracurricular activities, and community involvement in relation to the national hero's achievements, leadership, and nationalism. The JRMSP award is given to ten outstanding college students who embody Jose Rizal's ideals and attributes.
Rizal's life over his death
In the final stage of the selection process, Diezon recalls that he was asked about how he makes use of his role as a writer and a member of the College of Arts and Sciences (CAS) student council to live like our national hero.


Diezon shared that he believes we should celebrate Rizal's life more than his death because it is in the course of his life when Rizal was able to rekindle the Filipino spirit. He further explained that Rizal was not just a writer but a revolutionist who inspired our fellow Filipinos to fight back for their rights during the Spanish colonial period. And that not even his exile in Dapitan was able to stop him from helping the Filipino people progress.
Beyond the pride
While he has received praises for bagging the exemplary award, Diezon said that the trophy and title were mere bonuses. To him, it was so much more than just pride; it was more of a responsibility. It was a trophy that carried not only the weight of the raw materials from which it was carved from, but more importantly, it was a responsibility that carried the weight of the voiceless and marginalized Filipinos.


Furthermore, Diezon shared that he wants to continue inspiring the youth, especially the UP students, to never forget why they are studying in the university in the first place. He wished to remind his fellow UP students that studying in UP is a challenge that they have owned up to and will continue owning up to. He says that they are not just students, but empowered youth who should be willing to immerse and listen to the plight, struggles, and issues of the voiceless Filipinos. "Sabi nga nila, kapag namulat ka na, kasalanan na ang pumikit (When you finally become enlightened (on the different social issues), it is a sin to pretend like you never knew about them)," Diezon furthered, citing one of the famous lines from the annual Isko't Iska held at the university.
Continuous hope for the breaking of dawn
Despite the many social issues and struggles that our country is facing right now, Diezon says that he still continuously hopes for the pagbubukang liwayway (breaking of dawn) – a phrase that he borrowed from his favorite scene in Rizal's Noli Me Tangere. He has strong faith in the potential of the youth to transform our lives into a brighter future where there is less discrimination between and among Filipinos. "Nakatingin sya (referring to Basilio, a character in Noli Me Tangere) sa silangan, kasi mayroong pagsikat ng araw. At naniniwala ako na mayroon talagang pagsikat ng araw (He was looking at the east because he knew that the sun will rise. And like him, I believe that it really will)," he added.