Graduating International Students take oath as UPLB Ambassadors
21 June 2017 | IMRonquillo |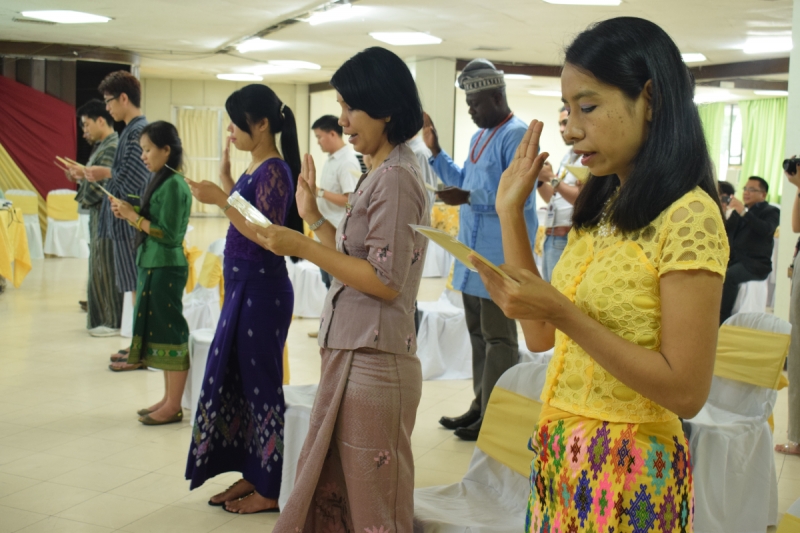 Donned in their country's traditional attire, 12 UPLB graduating international students swore to become ambassadors of UPLB during the 5th Investiture and Commissioning Rites and Recognition Ceremony for Outstanding International Students conducted by the International Students Division (ISD) on 20 June 2017 at the Makiling Hall, 2/F SU Building.
The activity aims to encourage international students to promote UPLB as a premiere educational institution furthering the university's internationalization goals.

Dr. Nina M. Cadiz, OSA Director, in her opening remarks, emphasized the role of the UPLB ambassadors in upholding the university's mandate of quality education that overcomes cultural barriers and in promoting UPLB as a community that welcomes and nurtures all individuals from all nations. "Being a UPLB ambassador means a lot. This means that the University officials trust you to promote UPLB in the best possible light," she added.
The investiture ceremony was led by Dr. Portia G. Lapitan, Vice Chancellor for Academic Affairs. She then commissioned the international students to discharge their roles as ambassadors to the best of their abilities.
Dr. Lapitan also delivered the Chancellor's inspirational message stating his hopes that the international students and their professional and research affiliations will come to UPLB to collaborate in producing necessary research and technologies which can help the world.
Chancellor Sanchez encouraged the ambassadors to use the knowledge, skills, and insights that they have gained in UPLB to serve their respective countries and to become active and conscientious members of the international community. "This is because UPLB is not only an institution that promotes academic excellence, it is also a community whose role is to instill in its members a sense of public service," he said.
In the latter part of the program, ISD gave recognition to outstanding international students. Taishi Kidaka of Japan received the Service Award while Kyaw Min Htut of Myanmar received the Service and Leadership Award. The Service Award is given to students who have actively supported and taken part in the programs of ISD. Service and Leadership Awards are given to all graduating international students who have served as officers of the International Students' Association.
On a separate occasion, two more international students were commissioned as UPLB ambassadors and given special awards. Alisa Sahahirun of Thailand received the Service and Leadership Award while Her Jun Won of South Korea received the Academic Excellence award for being the top academic performer among the graduating international students of the BS programs of Class 2017.