OSA trains college personnel on life coaching
1 December 2017 | AVRapas and CHHagosojos |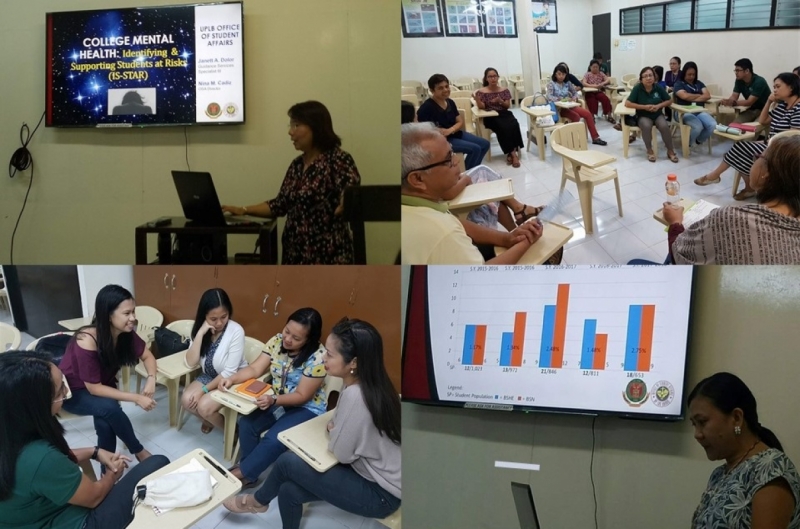 Recognizing the importance of students' mental health and the role being played by university personnel, the Office of Student Affairs, through the Counseling and Testing Division, conducted a Life Coaching Seminar to the personnel of the College of Human Ecology on 6 and 13 November 2017.
The seminar aims to equip college personnel with facilitating skills needed to handle the various psycho-emotional concerns of students.
The seminar started with a discussion on College Mental Health and how to identify and support students-at-risk. Dr. Nina M. Cadiz, OSA Director, talked about the college stressors that impact mental health, the indicators and warning signs of mental health problems, and some suggestions on how to deal with students-at-risk.
According to Dr. Cadiz, life coaches must be good listeners and must not dismiss the seriousness of the problems being experienced by the students. They must also let the students-at-risk know that help is available for them.
In order to provide the participants with update on the status of mental health in the university, Ms. Janett A. Dolor, CTD head, presented the current statistics on mental health of UPLB students based on the data from CTD.
Ms. Analyn V. Rapas, Guidance Services Specialist, talked about facilitating skills. According to her, facilitation is a consultation process that combines counseling, training, facilitation, and mediation. She emphasized the value of empathy or the ability to understand and share the feelings of others in facilitation.
Lastly, Dr. Erick Vernon Y. Dy, Guidance Services Specialist, facilitated a workshop to test how the participants would respond to different scenarios concerning students-at-risk.
The seminar was initially conducted to personnel from the College of Engineering and Agro-Industrial Technology. In the succeeding months, CTD will be conducting the seminar to the other colleges in the university.